Testimonials – PAPIMI Helps Judo Champion
CYPRIOT CHAMPION JUDO STAR HELPED BY PULSING ELECTROMAGNETIC THERAPY
One of the most promising teenage judo stars of Cyprus has excelled beyond all expectations recently when he came home from the 8th International Portuguese Tournament in Portugal this March 22rd 2008 with the Gold medal.
Andreas Krassas, 17-years old from Larnaca, weighing 60 kg has been suffering from sinus congestion and phlegm production for quite some time now. This often caused a blocked nose with snorting of phlegm to clear his throat and nose during competitions. This would often cause such congestion that he felt that he was drowning in his own phlegm and detracted him from showing his best.
As we all know, judo is a sport that requires speed, strength but particularly stamina, something that is difficult when your airways are blocked and you feel that you are drowning in large amounts of phlegm.
Only a few weeks ago the judo star Andreas went to the Da Vinci Holistic Health Centre (www.naturaltherapycenter.com) in Larnaca, Cyprus where he lives. After an initial consultation with Dr. George J Georgiou, Ph.D.,N.D.,DSc (AM), a Holistic Medicine practitioner of many years standing, it was decided due to time pressures as Andreas was preparing for competition that he would do a few treatments on the PAPIMI Pulsing Electromagnetic therapy device to see if this would alleviate some of the inflammation and phlegm production.
Andreas had five PAPIMI sessions in succession – he had scored his phlegm production on a Symptom Scoring Sheet as a '10' on a scale of 0-10, and his blocked nose he scored '10' again on the same scale – '10' is classified as 'very bad symptoms' and '0' as 'symptom free.' After the 5 treatments on the PAPIMI his score dropped to 2 for both symptoms which is an 80% improvement in only a few days.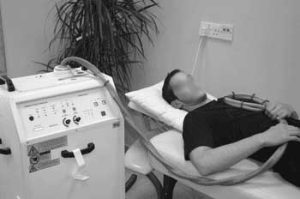 In addition, Andreas reported increased energy levels and prolonged stamina and a sense of well-being.
Very soon after these treatments Andreas, on March 22nd 2008 he flew to Portugal to fight in the International 'A' Class (under 20's), the first official 'A' tournament for juniours under 20's under the auspices of the European Judo Association – what followed was truly astounding! He beat 4 contenders in a row, including the Spanish champion Raul Clemente with a clear Ippon leaving the Spanish trainers and judges aghast!
Again on April 11th 2008 Andreas flew to Hungary for the Senior European Championship 2008 – he came back with a gold medal after beating Dimitri Dragin of France, a 4 times world medalist!
Natural Medicine and pulsing Electromagnetic fields can greatly boost energy and efficiency in athletes, removing hidden inflammatory processes that hinder their optimal performance when competing at high levels. In addition, identifying and eliminating food intolerances, realigning the spine and posture with osteopathic adjustments, as well as adjusting hyperpronation, taking the right nutrients for your sport, optimizing diet to suit training needs – all this and more that can be offered by a cutting-edge Holistic Medicine Centre can certainly help our athletes to excel and perform at their best. Well done Andreas and let us wish you the best in the Olympics of 2012!
Read more about the PAPIMI Pulsing Electromagnetic therapy device