Abnormal Posture
Assessing Abnormal Posture: Dr. Rothbart's Research and its Benefits for Overall Health
Introduction
Posture plays a crucial role in maintaining musculoskeletal health and overall well-being. Abnormal posture can lead to a range of issues, including musculoskeletal imbalances, pain, and reduced functional capacity. Dr. Brian A. Rothbart's research has highlighted the significance of abnormal posture in contributing to various health problems. In this article, we delve into the tests used to assess abnormal posture based on Dr. Rothbart's research and discuss the benefits it holds for overall health.
Understanding Abnormal Posture
Abnormal posture refers to deviations from the ideal alignment of the musculoskeletal system. It can result from factors such as muscle imbalances, structural abnormalities, and habitual postural habits. Over time, abnormal posture can lead to biomechanical stress, altered movement patterns, and increased risk of injury.
Dr. Rothbart's Research on Abnormal Posture
Dr. Brian A. Rothbart is a leading researcher in the field of postural assessment and its impact on health. He has developed a unique understanding of the role of the foot's structure and function in contributing to abnormal posture and associated health problems. His research focuses on identifying and addressing the root cause of abnormal posture to achieve long-term health improvements.
Tests for Abnormal Posture:
Rothbart's Foot Posture Index (FPI): The FPI is a validated tool used to assess foot structure and function. It evaluates various parameters such as arch height, forefoot alignment, and rearfoot position. By analyzing these parameters, healthcare professionals can identify abnormalities in foot posture that may contribute to overall postural imbalances.
Standing Posture Assessment: Assessing standing posture involves observing the alignment of key anatomical landmarks, such as the head, shoulders, spine, pelvis, and lower limbs. Deviations from the optimal alignment can indicate postural imbalances, muscle asymmetry, and potential compensatory mechanisms.
Gait Analysis: Gait analysis examines an individual's walking pattern to identify abnormal movement patterns, asymmetry, and compensations. Observing factors such as stride length, foot contact, and joint alignment can provide valuable insights into the impact of abnormal posture on functional movements.
Benefits for Overall Health:
Pain Reduction: Correcting abnormal posture can help alleviate musculoskeletal pain and discomfort. By identifying and addressing the root cause of postural imbalances, individuals can reduce stress on joints, muscles, and ligaments, allowing for improved pain management and enhanced functional ability.
Enhanced Movement Efficiency: Improving posture positively impacts movement patterns and overall biomechanics. Correct alignment and muscle balance facilitate more efficient movement, reducing the risk of overuse injuries and enhancing performance in physical activities.
Improved Respiratory Function: Abnormal posture can affect the position and function of the respiratory muscles, leading to restricted breathing and reduced lung capacity. Correcting postural imbalances can optimize respiratory mechanics, supporting better oxygen exchange, and improving overall lung function.
Prevention of Degenerative Conditions: Abnormal posture places additional stress on joints, leading to wear and tear over time. By addressing postural imbalances, individuals can reduce the risk of developing degenerative conditions such as osteoarthritis and joint dysfunction.
Enhanced Quality of Life: Correcting abnormal posture contributes to an improved overall quality of life. Reduced pain, enhanced movement, and improved physical function allow individuals to engage more fully in daily activities, recreational pursuits, and sports, fostering a sense of well-being and vitality.
Abnormal Posture and Our Feet
I have been working with chiropractors and osteopaths for a number of years now and always wondered why some patients needed to go back for more adjustments so many times per year. During my research to find out the answer I came across Professor Rothbart's work on hyperpronation and the relationship between the feet and posture.
Basically, if you are born with a defect of the feet, as many people are which causes hyperpronation (a leaning of the body), then this will affect the spine and your posture. This will result in many of the symptoms that you go to a chiropractor for – low back pain, knee pain, neck pain, muscle pains, and an increased propensity for musculoskeletal injuries. Headaches, plantar fasciitis, shin splints, blisters, and calluses are all common problems of hyperpronation.
Hyperpronation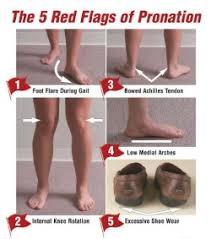 As we age and become more sedentary our muscles become weaker it becomes harder to maintain the body as upright as possible – this is called hyperpronation. Over time the body moves toward a collapsing posture – bio-implosion: a forward-leaning posture, head forward of the spine, rounded shoulders, forward rotated pelvis, knees traveling inward, collapsing ankles, and an unstable gait. All of these changes are visible. Some are less pronounced than others, but to the experienced observer, it is obvious.
More than three decades ago, Dr. Brian Rothbart DPM was running a very successful surgical podiatry practice in California. He too was seeing too many of his patients redeveloping the problems that were corrected during surgery. Dr. Rothbart started thinking laterally and by combining biomechanics and 21st Century 3-D computer modeling he described the complex motion of the bones in the foot and lower extremity during normal gait and was able to clearly demonstrate the mechanics of hyperpronation.
Noting that as many infants hyperpronate, as do children and adults, Dr. Rothbart suspected that it was a congenital problem and not a condition developed during childhood as he noted that many infants and children were hyperpronaters. In further studying clinical features on the development and growth of the fetus, Dr. Rothbart was able to fully explain the origin of hyperpronation and support all his biomechanical findings.
He was also able to adjust the problem by designing and patenting proprioreceptor insoles that are easy to fit into the patient's shoes and will rectify the hyperpronation and the body posture will return to normal and the symptoms related to the bad body posture will basically disappear (www.rothbart.org)
Now that he had discovered the cause of the hyperpronation, the tools to correct it became evident, and he was able to give up surgery for something a lot simpler. These foot mechanics have now been named after him, "Rothbart's Foot Structure" (RFS).
Conclusion
Assessing abnormal posture based on Dr. Rothbart's research provides valuable insights into the root causes of postural imbalances and their impact on overall health. By utilizing tests such as the Foot Posture Index, standing posture assessment, and gait analysis, healthcare professionals can identify and address underlying structural and functional abnormalities. Correcting abnormal posture offers numerous benefits, including pain reduction, improved movement efficiency, enhanced respiratory function, prevention of degenerative conditions, and an overall improved quality of life. Collaborating with healthcare professionals experienced in postural assessment and corrective strategies can guide individuals toward optimal postural alignment and long-term health improvements.
At the Da Vinci Holistic Health Centre we can examine the patient for RFS and find the solution to these chronic problems by fitting Posture Control Insoles (PCI). We have worked with athletes with amazing success to their performance and efficiency, as well as many other chronic pain conditions.
Dr. Georgiou has been trained by Prof. Rothbart in the safe fitting of proprioreceptor insoles for Primus Metatarsus Supinatus (PMS) foot types.
VIDEOS TO WATCH
Improving Body Posture with Proprioreceptive Insoles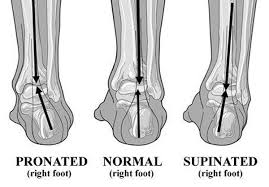 Contact us or book an appointment now.